The school year ended four days ago and I am thinking about welcoming my teachers to the next school year. (Wow. That was a short summer vacation.)
Every year in our school district the teachers return to school one week before the students return. On one of the days of that first-week-back, all of the secondary teachers in the district meet in their subject areas for a full day of professional development before the school year begins. This is a time to learn about new resources, to network with other teachers in other schools, and to energize teachers to get excited about the new school year.
We know that an effective teaching strategy for student understanding is to ask a lot of questions that encourage students to think about what they are learning. If students can explain what they are doing and why they are doing it, they must understand it pretty well. It also reinforces the idea that we want students to understand underlining concepts and not just to get-the-right-answer.
In that vein, I am going to ask our teachers some questions in an effort to encourage them to think about what they do and why they do it. These question will challenge the teachers to consider different possibilities. They will be questions that defy simple answers.
I'm in the beginning stages of preparing this presentation and I am certainly open to suggestions. Feel free share (in the comment section below) other questions that you feel would be good questions for teachers in the beginning of the school year.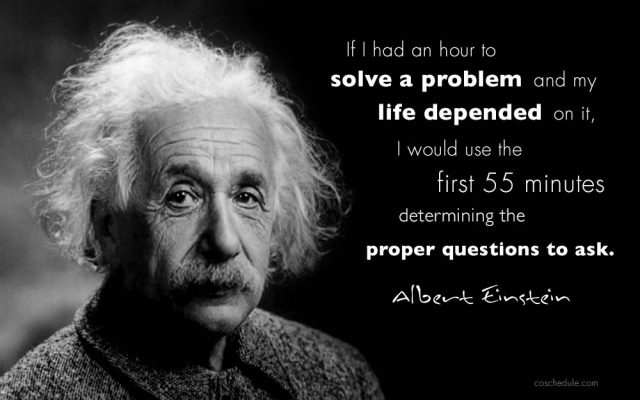 Questions:
(1) Why do you teach?
(2) What are your goals this year?
(3) What will you do differently this year?
(4) How will you make a difference?
(5) What do you want to learn this year?
(6) Why is mathematics difficult for some of your students?
(7) How will you help students who don't ask questions?
(8) How will you engage your students in their learning this year?
(9) How do you help your students to value "learning" over "getting-grades"?
(10) Why do you teach?
We ask (or should be asking) our students difficult questions every day. As such, we need to ask ourselves difficult questions. Teaching students who are willing and able and ready to learn is easy. But trying to reach the unwilling, the struggling, and the distracted student takes time and effort and expertise.
Why do you teach?